Sunscreen by Save Your Face Medical Skincare Products
Happy New Year, and welcome to this weeks Save Your Face Product Spotlight. This week I am focusing on the most important product to protect your face from premature facial aging: sunscreen. Although it may seem obvious, sunscreen falls under the Protect step of your daily skin care regimen. Our Save Your Face Sunscreen is one of the best sunscreens available. Before continuing, let us first review the steps we have covered in the previous weeks.
Protection from the skin damaging effects of the sun is the most important step you can take to prevent facial skin aging. In addition to avoiding sun exposure, the use of a high quality, effective sunscreen is an essential component of your anti-aging skin care program.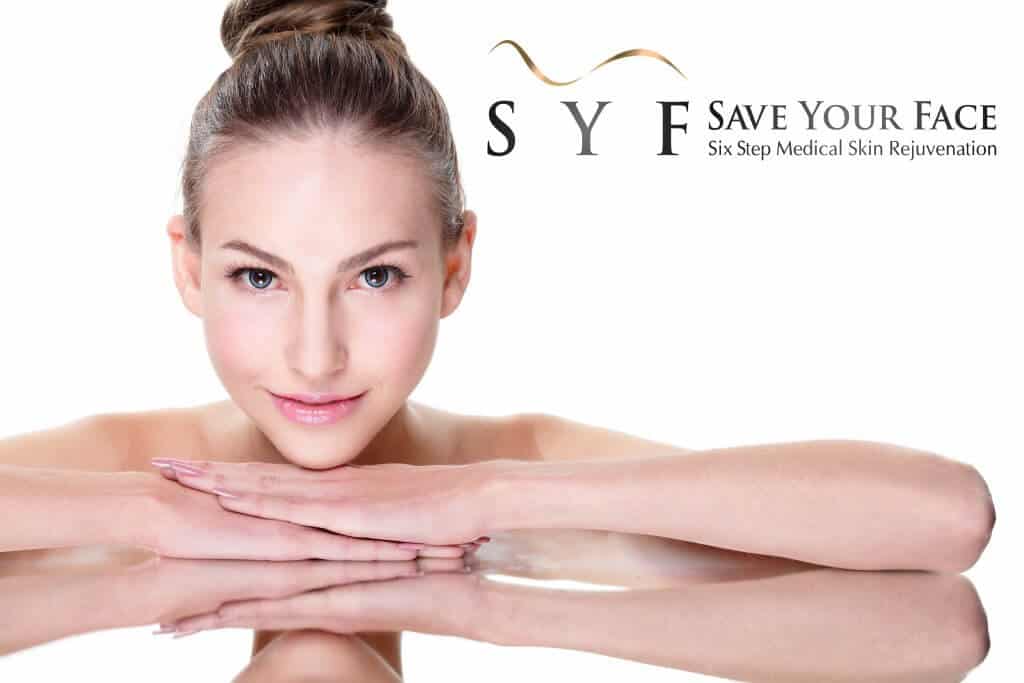 How does the sun damage my skin?
The sun exposes your skin to Ultraviolet (UV) radiation. UV radiation damages your skin cells, decreases their life span, and even alters skin cell DNA. DNA damage not only causes premature aging but can also cause skin cancer. UV radiation denatures the Collagen and Elastin in your facial skin. Collagen and Elastin are responsible for the firm, plump and elastic nature of young skin. Excessive UV induced premature skin death and loss of Elastin and Collagen will result in a dull, often wrinkled skin appearance with sunspots (hyperpigmentation) all of which make the facial skin appear prematurely aged.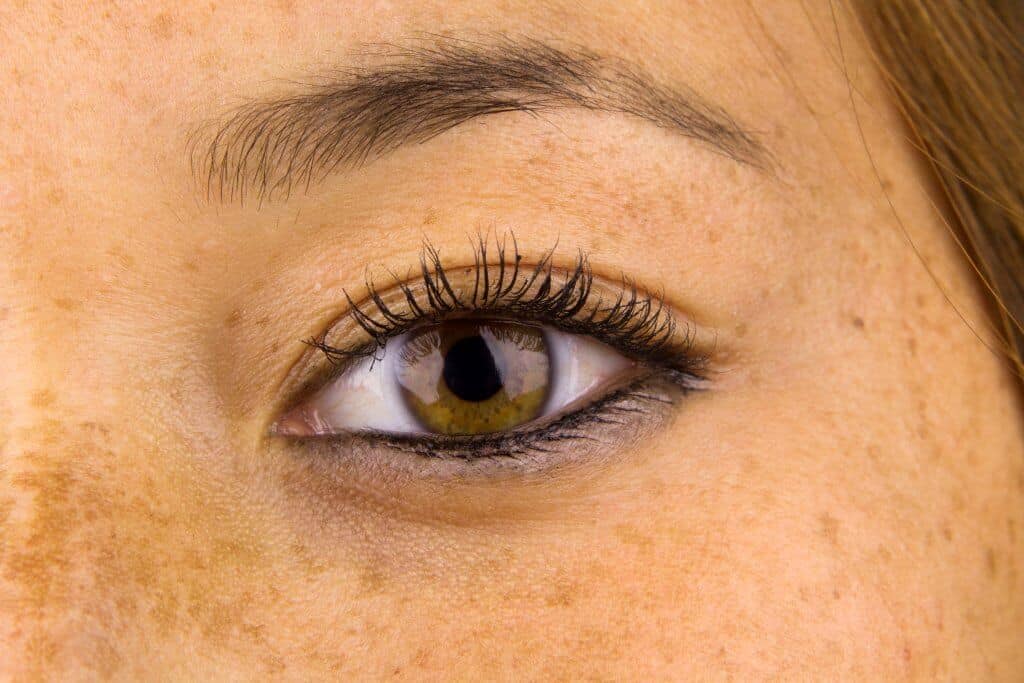 To better understand the effects of sun exposure compare the skin on your face to the skin on your underarm which is less exposed to the sun. The difference in softness, elasticity, and pigmentation is usually dramatic.
Sun Tans and Sunburns
Especially during the summer months in New England we often intentionally expose ourselves to the sun to develop a sun tan. Our skin attempts to protect our skin from the sun by forming additional skin pigment in an attempt to block the UV radiation from the sun. This pigment is called Melanin and is produced by specialized skin cells called Melanocytes. The effect of excessive UV radiation on the Melanocytes is to produce more of the pigment or Melanin which results in tanning, sun spots and freckles. However, this excess sun exposure also damages the skin cells and causes aging changes.
Tanning beds expose your skin to concentrated UV radiation and are very damaging to your skin. Tanning beds can increase your risk of developing skin cancer.
Severe overexpose to UV radiation can result in a sunburn which is an acute burn in which your skin cells are damaged resulting in inflammation, redness and blisters. This intense injury is very damaging to your skin and can cause premature aging changes.
How do sunscreens work to protect the skin?
Modern, effective sunscreens contain metallic ingredients that reflect the Ultraviolet rays away from your skin to minimize the amount of radiation absorbed (source: livescience.) Sunscreens do not reflect all UV radiation thus your skin still does absorb some UV rays. The absorbed UV rays can still cause a suntan while wearing sunscreen, but you can avoid a sunburn.
How often should I apply sunscreen?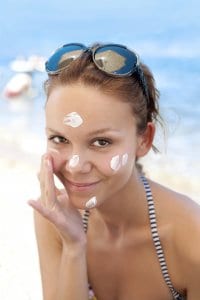 Sunscreens are available in different strengths classified by the SPF system. SPF stands for Sun Protection Factor. The SPF number is a theoretical multiple for the amount of time you can be in the sun longer than you could be without protection. For example, SPF 15 means 15x, SPF 30 means 30x. This number will vary depending on your skin type, but redness typically begins to appear in unprotected skin after 20-30 minutes of sun exposure. For example, if you begin to develop skin irritation after 20 minutes without sun screen, and you apply an SPF 15 sunscreen, you theoretically can be in the sun for for 300 minutes before your skin suffers the full extent of UV damage. This means you should reapply your sunscreen before 300 minutes has lapsed. Of course swimming and sweating depletes the sunscreen on your skin. Thus you should reapply your sunscreen after swimming or exercise.
UV radiation from the sun occurs all the time, regardless of season or time of year.
UV radiation from the sun affects your skin even in winter. Thus it is important that you protect your skin with sunblock every morning before you leave the house regardless of the time of year. During the colder months or when you are inside most of the day, it may not be necessary to reapply to your skin as often. However year round protection of your exposed skin, especially your face and hands, with sunscreen is very important.
Save Your Face Medical Skin Care Sunscreen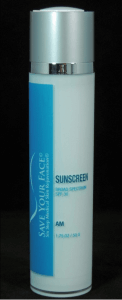 I designed our sunscreen to be the best sun block protection available for your face. Save Your Face Sunscreen is a water resistant SPF 30 formula that provides both physical protection, and chemical moisturizers to protect and nourish your skin. Our sunscreen contains 4% titanium, 4% zinc, and 5% octinoxate which are highly effective physical protectants to reflect UV rays off of your skin surface. A moisturizing blend of ferulic acid ester, melanin, vitamins C and E soothe your skin, as well as help your body repair skin cells that are damaged by UV damage. Our sunscreen is delivered to your skin in a smooth, non-greasy, tinted state, which also reduces the appearance of your pores, and even acts as a great foundation to put makeup over!
Since the SPF number is a theoretical representation of the multiple of time you can expose your skin to the sun before reapplying, I recommend my patients to reapply Save Your Face Sunscreen every 3 Hours to maintain maximum effectiveness of its protection.
To learn more about Save Your Face Medical Skin Care Products please visit my Save Your Face Webstore, for more information about our Nurture and Restore lines. Please download my Free E-Book to learn about my patented Six Step Medical Skin Rejuvenation Program. Please follow us on Facebook, and Twitter for up to date posts on these exciting new products, promotions and free product giveaways. Coming up next in our Save Your Face Product Spotlight Series: Moisturizers.
Dr. Brooke R. Seckel MD, FACS