Aesthetician Services by Save Your Face: Microdermabrasion
Microdermabrasion is my favorite non-surgical anti-aging skincare treatment and we try to provide the best microdermabrasion in the Boston area. Microdermabrasions are inexpensive, highly effective, and require no downtime after the procedure. In this blog I will discuss the benefits of microdermabrasion treatments, who should have microdermabrasions, and how to choose where to have your microdermabrasion.
What is a Microdermabrasion or Microderm Treatment?
Microdermabrasion, also known as a microderm, is a deep exfoliation treatment that can be performed on the skin of your face, neck, arms, or décolletage skin. This physical exfoliation process acts to remove dead and damaged skin cells from the surface, exposing new young fresh skin cells. This treatment involves the passing of a small glass suction tube across the surface of your skin. The tube contacts the skin, the skin is pulled up into a stream of rushing aluminum oxide crystals that brush against the skin, abrading its surface. These aluminum oxide crystals remove dead, dry, damaged and pigmented skin cells from the surface, leaving your face looking fresh, bright, refreshed and youthful.
How long does a Microdermabrasion take?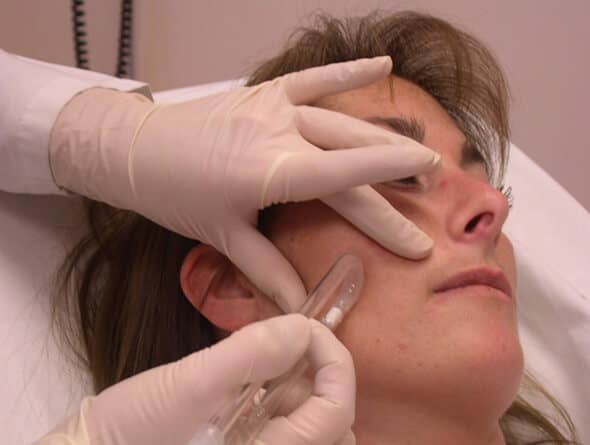 A glass microdermabrasion tube is passed across the surface of the skin. Inside abrasive silica crystals brush against the skin, exfoliating the surface.
A properly executed microdermabrasion treatment will typically take an hour or longer, depending on the number of areas treated. Microderms are an in office procedure that requires no down time after treatment. After your microderm treatment you may notice pink color on the surface of the skin, which typically subsides in a couple of hours or overnight. When you leave your procedure, you will immediately be able to feel the difference in your skin. Your skin will feel extremely smooth and soft. One or two days after treatment you may notice some slight peeling.
Because your new skin cells are fresh and delicate, sun protection is very important. I recommend that all of my patients use a high-quality, medical grade sunscreen that is designed for use on facial skin, like my Save Your Face Sunscreen, for at least 3 days post treatment.
What are the benefits of a Microdermabrasion?

Before and After Microdermabrasion to treat hyperpigmentation and reduce the appearance of fine lines and wrinkles.
Microderm treatments are an excellent way to achieve a deep exfoliation and remove surface blemishes from your skin. These treatments will remove dull, dry skin as well as remove light surface hyperpigmentation from sun damage. Microdermabrasion procedures are also an effective way to stimulate new collagen growth. Patients who have microdermabrasions may also notice improvement in fine lines and wrinkles due to collagen stimulation. Lastly, I have found that regular, deep exfoliation procedures help boost the effectiveness of topical treatments such as Retin-A and other anti-aging skin care by allowing them to penetrate the facial skin more effectively.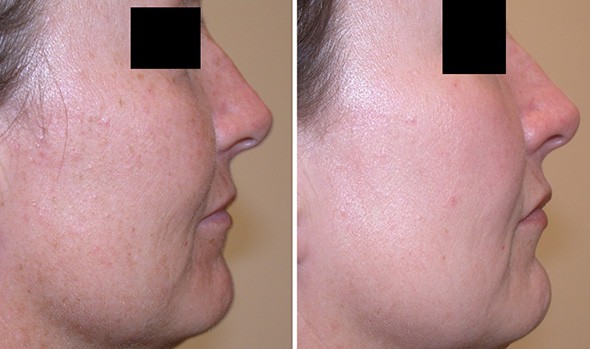 Before and After Microdermabrasion to treat complexion blemishes and dry skin.
Where should I get a Microderm Treatment?
Microdermabrasion is available at salons, spas, and dermatologist and plastic surgeon's offices. Not all treatments are created equal, nor as effective. The microdermabrasion machines available to physicians offices are more powerful, and effective. These special machines are only available to doctors offices because they require a medically trained individual to perform these treatments as effectively and safely as possible. The microdermabrasion treatments available at spas and salons often cost the same as those in physicians offices, but are usually less effective. More importantly, in a medical office you will have access to proper medical skin care services, products and advice. In my office, microdermabrasion is performed by my Medical Aesthetician who I have trained and is very experienced.
Having your microdermabrasion by an experienced medical aesthetician is important, not only for safety, but also for the effectiveness of the treatment. Access to medical grade skin care products and a doctor on site to provide advice is a definite added bonus.
For more information on the Aesthetician Services available at my practice, please visit our Med Spa page. Please download my Free E-Book to learn about my patented Six Step Medical Skin Rejuvenation Program. Please follow us on Facebook, and Twitter for up to date posts on our exciting new products and aesthetician services. We will continue our discussion of Aesthetician Services next time with a discussion on Chemical Peels