Cleansers by Save Your Face: Energize and Refresh+
In last week's post, Boston plastic surgeon Dr. Seckel outlined the two product lines of my Save Your Face Medical Skincare brand: Nurture and Restore. This week he wants to help you understand how these products fit into your daily skin care routine. Following a consistent properly structured skin care routine is very important to prevent facial skin aging and reverse aging changes that have already occurred.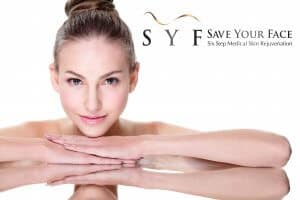 What Should my Medical Skin Care Regimen Include?
There are multiple steps that should be done daily to combat the signs of facial aging and protect your skin from further aging changes. A well-balanced daily skin care routine should contain 7 steps:
Cleanse
Tone
Eye Cream
Correct
Moisturize (AM)
Exfoliate (PM)
Protect
Today, Dr. Brooke Seckel will be discussing the first step of this routine: Cleanse, for which there are two individual products in the Nurture and Restore lines.


Save Your Face Nurture: Energize Foaming Cleanser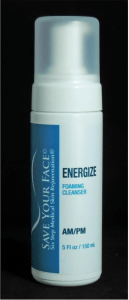 Our Energize Foaming Cleanser was specifically designed to thoroughly cleanse without drying out your skin. This special foaming cleanser provides a rich lather which, when applied, gets down into your pores to remove oil and dirt. Our specialty formula contains lactic and salicylic acids, which provide excellent chemical exfoliation to remove dead skin cells and oil. Energize also contains green tea, which naturally soothes skin during the exfoliation process. This cleanser is effective on all types of skin, especially oily and acne-prone skin. One bottle of Energize Foaming Cleanser should last approximately 3 months.


Save Your Face Restore: Refresh+ Gentile Foaming Cleanser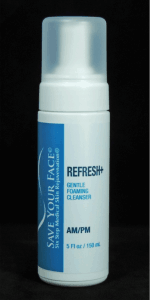 The Refresh+ Gentile Foaming Cleanser was formulated to cleanse and moisturize mature skin, which typically is more sensitive to dryness. This cleanser's rich lather contains lightweight hydrators including Evodiox, a naturally occurring redness-reducing agent found in the Chinese Evodia plant. Refresh is suitable for use on all types of skin, although it was designed to be a gentile cleanser fit for more sensitive mature skin. In addition to mature skin, this cleanser is ideal for people with sensitive skin, that is prone to redness, rosacea, or dryness from skin care products.
How do I apply Save Your Face Cleansers to my skin?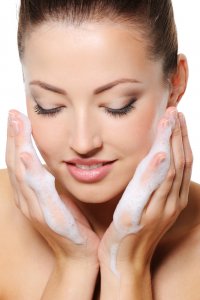 Cleansers should be the first step of your routine, and applied before any other products, as they prime the surface of your skin for any toner, antioxidant, or retinoid that you might use. Application is easy: Simply apply one half pump to wet hands, work into a lather, apply to dry face, then rinse. It is important to have dry facial skin prior to application. This makes sure the active ingredients do not become diluted before they have a chance to work. You will experience best results by applying cleanser to your face twice a day, once in the morning, and once at night.
For more information on Save Your Face Medical Skin Care and the Nurture and Restore lines please visit the Save Your Face Website. For more information on my patented Six Step Medical Skin Rejuvenation Program please read my Free E-Book. Please follow us on Facebook, and Twitter for up to date posts on these exciting new products, Free Giveaways, and special promotions. The next blog post in the series will cover the next step that should be in every skin care regimen: Toner.
Dr. Brooke R Seckel MD, FACS