Male Blepharoplasty in Boston
What is Different About Male Cosmetic Eyelid Surgery?
The thicker, heavier eyelid skin in males requires special blepharoplasty techniques to avoid sagging or downward pull of the lower eyelids after surgery. These techniques are called orbiculopexy, canthopexy or canthoplasty.
What is Male Blepharoplasty?
Male eyelid surgery or blepharoplasty is a plastic surgery procedure to remove eye bags, puffy eyes, dark circles under the eyes, and remove eye hooding or extra skin of the upper eyelids.
Why Do Men Have Blepharoplasty?
Men choose to have blepharoplasty for the following reasons:
People tell them they look tired
They feel that the extra skin, wrinkles and eye bags make them look older
The extra skin of the upper lid is pressing on their eyelashes and feels heavy
They simply want to look younger and more awake
How is Male Eyelid Surgery Done?
I use a laser blepharoplasty technique. The laser allows more accurate and delicate handling of the delicate eyelid tissues, and causes less bleeding and less bruising.
Is Male Blepharoplasty Safe?
Yes blepharoplasty is a safe procedure if performed by an expert in eyelid surgery who is experienced in the laser technique.
What is Recovery Like After Male Blepharoplasty?
The main recovery after male blepharoplasty is the time it takes for bruising and swelling to go away. Generally you should plan on 2 weeks during which you may have bruising. Usually after 4-5 days sunglasses, eye glasses, and make up can adequately cover the bruising. The main difficulty during recovery is that you will have to use eye ointment and eye drops for the first week after blepharoplasty. This is not painful but can blur vision and makes reading and use of the computer difficult.
Is Male Blepharoplasty Painful?
Patients complain of discomfort caused by swelling and the use of eye drops and medications for the eyes that are used after male blepharoplasty. Patients rarely complain of frank pain. Pain medications are provided to control discomfort.
Who Should Do My Male Blepharoplasty?
You should find a specialist in eyelid surgery. Typically this would be a plastic surgeon who is certified by the American Board of Plastic Surgery or American Board of Ophthalmology with a subspecialty in Oculoplastic surgery.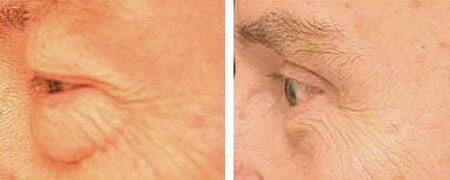 Schedule a Consultation
Dr. Brooke Seckel is an experienced facial plastic surgeon who has helped many men achieve the rejuvenated appearance they desire, without sacrificing their masculine look. If you have been considering male blepharoplasty and would like to learn more about it, please contact the Boston Plastic Surgery Specialists today.