Male Double Chin Removal in Boston
What is Different About Removal of Double Chin in Men?
Because male skin is thicker and heavier, older men with significant double chin often need a neck lift. Milder degrees of double chin in younger men can be adequately treated with laser liposuction. Because of the increased thickness of skin dermis and elastin, male neck elasticity is stronger than in women, thus laser liposuction can produce dramatic skin tightening when treating the male double chin.
How Do You Remove a Double Chin in Men?
Double chin removal in most men is accomplished with laser liposuction. This requires a tiny entrance point well hidden beneath the chin and the benefit of the laser is that in addition to fat removal it provides skin tightening. The new laser liposuction technique is a significant advance in the treatment of male double chin. Older liposuction techniques with larger cannulas could not be used on the chin and neck. The tiny instrumentation that is used with laser liposuction makes it an ideal application for the neck.
Why Do Men Choose to Have Double Chin Removal?
Because a double chin makes a man feel that he looks fat
Because neck laxity is an early sign of facial aging many patients feel that the double chin makes them look old
People with a weak chin and a double chin want to have a longer square jaw line
What is Recovery Like After Double Chin Removal in Men?
Recovery can take 10 days to 2 weeks for bruising to go away. You will have to wear a compression chin garment for the first week which for many patients is a nuisance. However the compression garment helps tighten the skin and prevent the accumulation of fluid under the neck skin. It is very important part of your postoperative recovery.
How Will I Look After Male Double Chin Removal?
There is significant improvement immediately after surgery. However, you will be wearing a compression garment so it is difficult for you to see initially. However, the effective fat removal and skin tightening following laser liposuction of the male double chin does produce dramatic results which you will see when the facial compression garment is removed. Skin tightening continues for up to 6 months.
Is Removal of Double Chin Painful?
Patients do not complain of pain after double chin removal with the laser liposuction. Discomfort is associated with the fact that you have to wear the compression head dressing. You will be given pain medication to control any discomfort that you have.
Is Removal of a Double Chin with Laser Liposuction Safe?
Yes, if performed by a plastic surgeon who is certified by the American Board of Plastic Surgery and is experienced in the laser liposuction technique.
Who Should Do My Double Chin Removal?
You'll need to find a plastic surgeon who is certified by the American Board of Plastic Surgery, and who is also also experienced in laser liposuction techniques.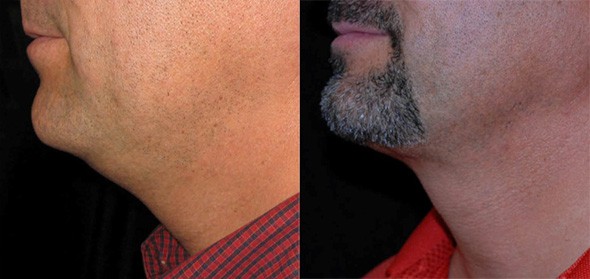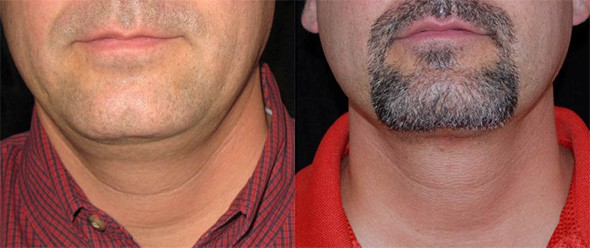 Schedule a Consultation Today
Boston Plastic Surgery Specialists is a leading provider of male plastic surgery in Boston, MA. Dr. Brooke Seckel has helped many men enhance their appearance by removing a double chin. If you are interested in learning more about this procedure, please contact us today to schedule your consultation.