Liposuction For Men in Boston
How is Male Liposuction Different from Liposuction for Women?
Because of the thicker dermis in male skin, following laser liposuction skin retraction and tightening can be quite good. Because male skin has more blood vessels, fluid accumulation can occur therefore we frequently placed small drains beneath the skin in the area of liposuction to remove excess fluid. Another difference with male liposuction compared to liposuction in women is the common areas where liposuction is performed in males. Males choose liposuction of the abdomen and flanks, the spare tire, the neck and breasts. Liposuction of hips and thighs in my experience is nonexistent in the male population whereas it is quite common in women.
Is Male Liposuction Safe?
Yes male liposuction is safe when performed by a plastic surgeon who is certified by the American Board of Plastic Surgery who is experienced at liposuction techniques.
How Long is Recovery After Male Liposuction?
Recovery for male liposuction is about 2-3 weeks for bruising to go away. You will be wearing a compression garment for at least the first 10 days and at bedtime possibly for longer. During the first 2-3 weeks until swelling has been reduced you will not be able to do vigorous or stressful physical exercise.
Is Male Liposuction Painful?
There is discomfort, skin discomfort, for the first 3-4 days which is managed by pain medication. Most patients do not complain of significant pain. The biggest complaint is the fact that patients have to wear tight compression garments to encourage skin tightening and prevent fluid accumulation. The first week to 10 days when garments are worn can be uncomfortable.
Abdominal, Tummy or Stomach Liposuction for Men
Abdominal or stomach liposuction is the most common liposuction procedure performed in men. Male liposuction is done to remove the spare tire which is a ring of fat around the abdomen and flanks. There is deep diet resistant fat around the waist in men which can only be removed with liposuction.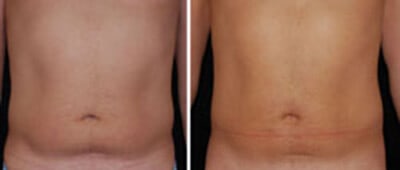 Male Flank Liposuction
Typically when abdominal liposuction is performed in men flank liposuction is also done. In men the most common complaint about fat is the classic spare tire which involves the abdomen and waist area.
Male Neck Liposuction
Laser liposuction is used to remove neck fat and tighten neck skin in men. Dr. Seckel also performs neck lift and facelift surgery for men who wish to tighten the skin in these areas.
What Does Male Liposuction Cost?
Liposuction fees are the same for men as they are for women. Fees for laser liposuction are higher because of the expense of the laser.
Who Should do Male Liposuction?
I recommend a plastic surgeon who is certified by the American Board of Plastic Surgery and who is experienced at liposuction techniques.
Schedule a Consultation
Liposuction is becoming more and more popular among men each year, and Dr. Brooke Seckel is pleased to offer the very latest liposuction techniques to help men get the look they want. If you have been considering male liposuction, schedule a consultation today.