Tummy Tuck in Boston
What is a Tummy Tuck?
A tummy tuck or abdominoplasty is a plastic surgery procedure to tighten tummy or abdominal skin and to make the belly flat. The tummy tuck is also called a belly lift, tummy lift, stomach lift and lifting the belly.

Why Do People Get a Tummy Tuck?
To tighten the tummy or belly after pregnancy. The after pregnancy belly or baby belly can have extra loose skin and stretch marks. Most patients work very hard with abdominal exercise trying to tighten the tummy skin after pregnancy. Although exercise can firm the muscles, exercise will not tighten abdominal skin. This loose sagging tummy skin can be removed and the tummy tightened with abdominoplasty
To tighten the tummy or belly after weight loss. After weight loss the fat beneath the skin, the subcutaneous fat is no longer stretching the abdominal skin. This belly skin becomes loose and sagging. The tummy tuck or abdominoplasty can remove this loose skin and flatten and tighten the tummy.
How is a Tummy Tuck Done?
During a tummy tuck the abdominal skin is lifted off of the abdominal muscles, pulled down to tighten the tummy skin, and the sagging skin removed. At Boston Plastic Surgery Specialists we try to do the best tummy tuck in Boston.
What is a Mini Tummy Tuck or Bikini Tuck?
A mini tummy tuck or bikini tuck involves only tightening the lower tummy below the belly button. The mini tummy tuck scar is smaller than the full tummy tuck scar and there is no scar on the belly button. The mini tummy tuck is the most common tummy tuck that we do. It is done to remove minor loose skin from the pregnancy belly in women and to remove c section scars.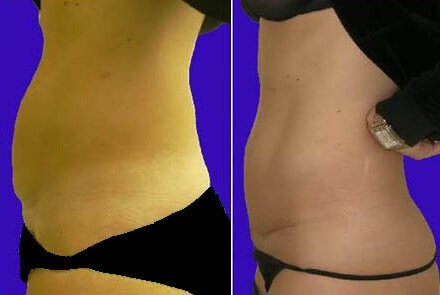 What is a Full Tummy Tuck?
A full tummy tuck or abdominoplasty is required when there is sagging skin both above the belly button and below the belly button. During full tummy tuck the umbilicus or belly button is repositioned. Modern umbilicoplasty techniques can create an "inny" belly button with a belly button hood. Full abdominoplasty scar is longer than mini tummy tuck scar. Full abdominoplasty is more common after twin pregnancy, large pregnancies, and significant weight loss.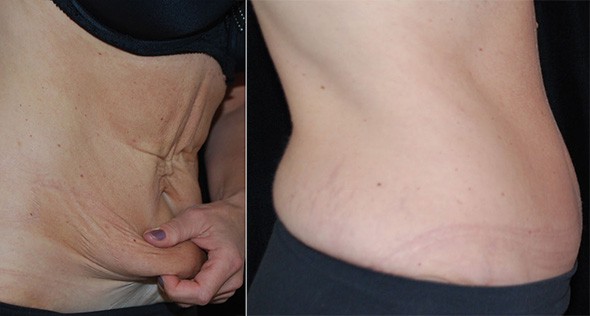 What is Muscle Repair or Diastasis Recti Repair with Tummy Tuck?
Diastasis Recti is a separation of the two abdominal muscles during pregnancy. Full abdominoplasty is necessary to repair the muscles. The tummy tuck muscle repair also narrows the waist line.
What is Lipo Sculpting?
Lipo sculpting is a more refined version of liposuction in which the use of liposuction in specific areas is done to enhance the shape and appearance of the body. One of the more common lipo sculpting procedures is done on the abdomen to reveal the abdominal muscles and make them look more cut.
What is a Laser Tummy Tuck?
A laser tummy tuck is skin tightening of the belly with laser liposuction. Laser tummy tuck is not a true surgical tummy tuck and the results though good do not tighten the tummy as tight as a tummy tuck.
What is a Non-Surgical Tummy Tuck?
The non-surgical tummy tuck is skin tightening of the tummy with lasers, radiofrequency, ultrasound and infrared machines. Thermage®, Titan®, Lux IR Deep®, and Ulthera® are well known brands. There is no such thing as a nonsurgical tummy tuck. The best non-surgical skin tightening of the belly is about 20%.
Is Tummy Tuck Surgery Painful?
There is discomfort following tummy tuck the first 4 or 5 days, but you will be given pain medications. Resting and avoiding strenuous activity helps prevent discomfort.
What is Recovery like After a Tummy Tuck?
After a mini tummy tuck you should be able to return to a desk job in a week. Heavy lifting and vigorous activity should be avoided for 3-4 weeks, sit-ups and abdominal crunches for 6 weeks after muscle repair. You may have small drains for 2 or 3 days to prevent a fluid buildup called a seroma.
Is a Tummy Tuck Safe?
Tummy tuck is a safe operation when performed by an experienced plastic surgeon who is certified by the American Board of Plastic Surgery. You must be healthy, have good circulation, a nonsmoker, and have lost your pregnancy weight.
What is the Tummy Tuck Scar Like?
The mini tummy tuck scar can be well hidden below the bikini or underwear line in. A full abdominoplasty scar will be higher and longer. It may be pink in the beginning but usually turns a natural color.
What Will My Tummy Look Like After Abdominoplasty?
You will see your new flat belly day 1. Day 2 or 3 you will see bruising and swelling which can last 2-3 weeks.
When Will I See the Final Result of my Tummy Tuck?
Final results of tummy tuck can take 6 weeks.
Schedule a Free Tummy Tuck Consultation
Tummy tuck surgery can tone your abdomen and give you the boost in self-confidence that you have been looking for. Dr. Brooke Seckel is widely regarded as one of the best tummy tuck surgeons in Boston. To find out if you might be a candidate for this procedure, contact Boston Plastic Surgery Specialists today.