Mentor Breast Implants
Why I Use Mentor Breast Implants
At our plastic surgery practice we use Mentor Breast Implants exclusively for breast augmentation. I have used these implants for the past thirty-one years. During my Harvard plastic surgery residency at Brigham and Women's Hospital I had the opportunity to use breast implants from 3 different breast implant manufacturers. What I noticed was that many silicone implants had a greasy film on the outside which represented silicone gel that had leaked through the implant shell, something referred to as implant "sweating." This greasy material had to be wiped off with alcohol before the implant could be placed into the patient.
When Mentor implants became available in 1984 I noticed that the outer shell of the implant was dry with no greasy film on the outside. My interpretation of this experience was that the Mentor breast implant shell was better and prevented leaching of significant amounts of silicone gel to the outside of the implant and into the patient. I have no scientifically controlled study to prove my theory however it made sense to me that preventing leakage of silicone gel into the patient was beneficial to my breast augmentation patients. Since that learning experience in 1984 I have only used Mentor breast implants for my patients.

Mentor Breast Implants Are Made in the USA
Mentor breast implants are the only FDA approved breast implants made in the United States. The United States imposes strict quality control standards for manufacturing that often exceed those of other countries. Recently a manufacturer in Brazil that supplied implants to the United States market has been closed down due to the discovery of microscopic "particles" on the outside of the implant shell. This event left surgeons who use those implants in "limbo." In the past there have also been implant manufacturers in Europe that have had to close down due to lack of FDA approval for use of their implants in the United States.
In my opinion, using a product made in the United States which meets FDA standards is not only the best option for my patients but also patriotic, just my personal opinion.
Mentor Breast Implant Sizing System
The Mentor Breast Implant Sizing System has greatly improved our ability to help our patients choose the properly sized breast implant for their desired breast augmentation result. We have a set of specially shaped Mentor breast implant sizers designed to mimic the shape of a breast implant once it has been placed into the body. These sizers are used during patient consultation to estimate the proper size of implant for each individual patient.
Many factors go into the breast implant sizing decision. During sizing, measurements of the patient's breast base width are taken. Using this measurement a chart provided by Mentor is used to find the proper breast implant diameter to fit the patient's breast.
Next breast implant sizers of the appropriate size are placed into a non-padded sports bra so the patient can see how they will look with that sized implant both in a bra and in clothing.
Using this system has significantly improved patient satisfaction with the size of implant chosen for breast augmentation. In years past before we had this system some patients would say at a year after surgery they wished they had chosen a larger implant. This rarely, if ever, occurs now with use of the Mentor Breast Implant Sizing System.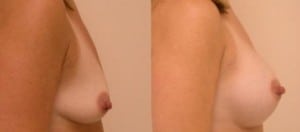 Mentor Breast Implant Extended Warranty
Mentor provides a lifetime warranty for replacement of a deflated saline implant or ruptured silicone implant which is standard for the implant industry. However coverage for capsular contracture or seroma is not provided.
Recently Mentor has offered an Enhanced warranty which can be obtained by the patient for a fee of $200 and enrollment before 45 days after surgery. This new enhanced warranty provides up to $3500 in financial assistance for surgery required to treat Baker 3 and 4 capsular contracture, double capsular contracture and late occurring seroma for up to ten years. This warranty also provides free replacement of the second or opposite side implant.
This is an extremely important warranty protection against a serious, but fortunately unusual complication of breast augmentation.
FDA Approved Breast Implants
Both implants made by Mentor and Allergan are FDA approved for use in the US. Both implants made by Mentor and Allergan are excellent safe breast implants. Your plastic surgeon will have his or her own personal choice and personal reasons for choosing one implant over the other. I have chosen to use Mentor Breast Implants exclusively for breast augmentation during my thirty-one years in my plastic surgery practice. I have been happy with this choice. I have described above the factors which have led to my personal preference for Mentor breast implants. The new extended warranty to me demonstrates Mentor's own confidence in their product and is likely based on their own clinical studies on the safety and durability of their product.