Save Your Face Medical Skin Care Products
Facial aging is, or should be, a concern for everyone. In my book "Save Your Face: The truth about facial aging, its prevention and cure" I provide a comprehensive explanation of the causes of facial aging, how to prevent it and a discussion of the modern non-surgical options to reverse aging changes.
One very important part of any program to prevent or reverse facial aging is the use of high quality, effective, medical grade skin care products. For many years I have been troubled by the lack of high quality skin care products that work together to provide optimal anti-aging therapy for the facial skin. After eight years of research, testing, trial and error I have developed a line of medical grade skin care products that I believe provide the best possible results for my patients.

What's in a name?
I have named this brand Save Your Face because these products are custom formulated to work with, and enhance the steps outlined in my patented Six Step Medical Skin Rejuvenation Program®. This program is outlined in my book "Save Your Face."
What is the Six Step Medical Skin Rejuvenation Program®?
Step 1- Exfoliation
Remove dead skin cells to stimulate new healthy skin cells for fresh, healthy young looking skin
Step 2- Stimulate new skin collagen
Replace sun damaged collagen to plump and firm skin
Step 3- Remove abnormal pigment and blood vessels
Remove brown spots and red spots, signs of inflammation, damage and aging
Step 4- Relax wrinkle causing muscles of facial expression
Frown lines, "11's", crow's feet, bunny lines, marionette lines, chin crease and worry lines
Step 5- Fill deep facial lines and contour deformities
Restore facial volume, the "apple cheeks" of youth, lift the mid face and improve nasal labial folds and marionette lines
Step 6- Tighten skin
Restore elasticity and firm the facial skin
Each step of my program effectively treats the signs of aging that you see on your face and the program as a whole acts to restore and protect your facial skin.
Save Your Face Medical Skin Care Products
The Six Step Program utilizes many different modern medical skin care treatments available in my office. The Save Your Face skin care products are designed to work with and enhance the results of the Six Step Program. I wanted the Save Your Face products to be of benefit to both my younger and more mature patients. I have therefore developed two separate lines; one preventative and one therapeutic. Both are designed to complement and work in conjunction with the Six Step Medical Skin Care Program®.
Nurture: for young skin
The Nurture line is specifically designed for younger skin that does not have significant aging changes. Nurture includes several products that are formulated to address and reverse the early skin aging changes in younger skin. This program not only helps reverse the early signs of facial aging, but also acts to preserve and protect the skin from further damage.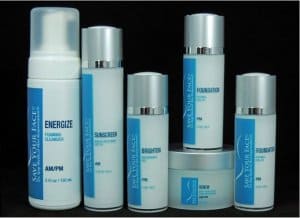 Restore: for mature skin
The Restore line is a more advanced aggressive group of anti-aging skin care products. The Restore line is specifically designed to reverse more significant facial aging changes in mature skin that already has visible aging changes.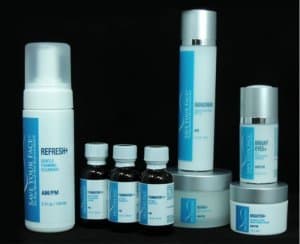 Both Nurture and Restore are multiple step comprehensive skin care lines, which easily fit your daily skin care routine.

Stay tuned for frequent Save Your Face product spotlights
Over the coming weeks, I will be writing posts to discuss each product. I will show how the product helps prevent or reverse signs of facial skin aging. I will also discuss how each individual product works to enhance the Six Step Program.
For more information on Save Your Face Medical Skin Care products and the Six Step Program, please visit Save Your Face, where you can download a free E-Book "Why Save Your Face?" or contact us with more questions.
Please follow us on Facebook, and Twitter for up to date posts on these exciting new products, as well as Free Giveaways, and special promotions.
Dr. Brooke R. Seckel MD, FACS