Acne Removal in Boston
What is Acne?
Acne is a skin disorder characterized by red bumps or whiteheads on the skin called comedones. Comedones or acne sores are actually small skin infections caused by the bacteria in the oil glands of the face and other areas called sebaceous glands. Acne is most common during puberty when the sebaceous glands or oil glands become active although adult acne can also occur and is more common in people with oily skin who have high numbers of sebaceous or oil glands in the face.
What causes acne?
Acne is caused by over production of skin oil in the sebaceous or oil glands of the skin. Over production of oil in the sebaceous gland can cause obstruction of the oil gland so that oil builds up in the sebaceous gland. With buildup of skin oil or sebum in the sebaceous gland and obstruction the oil or sebum becomes infected with bacteria and this infection results in a red bump, whitehead or comedone. Hormonal stimulation during puberty and stress can increase oil production and therefore increase the frequency of acne outbreaks.
How do you control acne?
The basic steps in controlling acne are:
Skin exfoliation to remove dead cells and debris that can cause obstruction of the sebaceous glands
Light skin chemical peels
Control sebaceous gland infection with:

Topical clindamycin
Oral Minocyclene® or tetracycline
Laser or IPL treatments

Decrease sebaceous gland oil production with:

Benzoyl peroxide washes
Retinoic acid or vitamin A derived compounds:

RetinA®
Tazorac®
Differen®
Accutane®

Laser or IPL treatments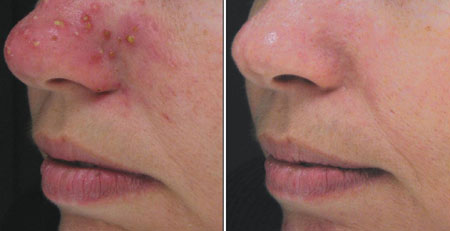 Do acne control treatments work?
Acne control treatments work first by removing the obstruction of oil glands with exfoliation to allow excess oil to be released. After microdermabrasion it is not uncommon for the face to be very oily as relieving obstruction of the pores allows backed up sebum or oil to be released from the oil gland. The most effective second step, treating the infection of the lower gland, is the topical use of Clindamycin®. Laser and IPL treatments can also control the bacterial infection in the sebaceous gland and laser treatments can be quite effective. Decreasing sebaceous gland oil production often requires retinoic acid derivatives which shrink the sebaceous gland cells and decreased oil production. RetinA® is the starter drug; Tazorac® and Differin® are more powerful. Accutane® is a very powerful drug was serious potential for side effects and should only be used under the direct supervision of a physician, preferably a dermatologist, and frequent follow-ups and blood tests are required.

What are the best topical creams or medications for acne control?
The best topical creams for acne control are prescription grade topical antibiotics and topical retinoic acid derivatives listed above.
What will I look like after my acne control treatments?
After acne control treatments your skin will be pink and you will likely have flaking and peeling skin after exfoliation treatments and with the use of retinoic acid topical medications.
How long does it take for acne control treatments to work?
It does take time to bring significant acne under control. However with persistent treatments including exfoliation, topical antibiotics, topical retinoic acid derivatives and laser treatments the skin can usually be cleared and improved after 6 weeks.
Are acne control treatments safe?
Acne control treatments are safe but prescription topical retinoic acid medications require supervision by a physician. Accutane® has the potential for serious side effects and must be carefully monitored by a physician.
Who should do my acne control treatments?
Your acne control treatment is managed by a medical aesthetician, nurse or PA working under the supervision of a physician who is experienced after acne control treatment.
Schedule a Consultation Today
There are many options available to treat acne, and Dr. Seckel is pleased to work with patients to help them find the treatment that will work best for them. If you suffer from acne and are searching for an effective treatment, contact Boston Plastic Surgery Specialists to schedule an appointment today .