Cosmetic Laser Eyelid Surgery in Boston
Cosmetic laser eyelid surgery for upper eyelid Blepharoplasty and lower eyelid Blepharoplasty is discussed by Boston Plastic Surgery Specialists.
What is cosmetic laser eyelid surgery?
Cosmetic laser eyelid surgery is a cosmetic plastic surgery procedure that is done to remove excess upper eyelid skin hoods and lower eyelid bags using a laser to make incisions and remove tissue, instead of using a traditional scalpel and scissors. Cosmetic upper eyelid surgery is called an Upper Blepharoplasty. Cosmetic lower eyelid surgery is called a Lower Blepharoplasty. Both procedures can be done using the CO2 laser incision to remove tissue rather than the surgical scalpel and scissors.
What are the advantages of cosmetic laser eyelid surgery over traditional scalpel eyelid surgery?
• More accurate-
• The width of the laser beam used to make the cosmetic laser eyelid surgery incision is 0.2mm which is ½ the thickness of a scalpel blade thus the laser incision is more narrow and refined.
• The laser beam makes the incision with no pressure on or touching of the eyelid skin. The pressure on the skin from the scalpel incision moves and distorts the skin as the incision is made which can result in a less accurate incision. Thus this new laser technique is more accurate.
• Much more precise tissue removal is possible with the laser especially around the outside and inside corners of the eyelid. This helps avoid leaving excess skin called a dog ear near the nose or on the outside corner of the eye after upper blepharoplasty.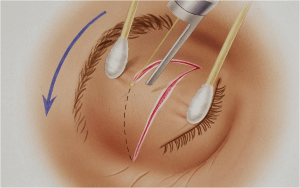 • The laser incision is much easier to use on the inside of the lower eyelid for transconjunctival lower eyelid blepharoplasty.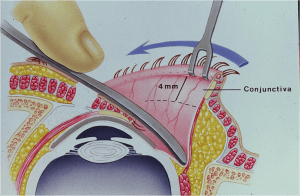 • Less Bleeding- Less Pain- The laser seals blood vessels as the laser incision is made thus there is less bleeding during laser eyelid surgery. Nerve endings in the skin are also sealed which can make laser incisions less painful after surgery.
• Better visibility for the surgeon- Most important- with less bleeding during surgery the surgeon has much better visibility of the delicate eyelid and eye structure. Better visibility for the surgeon means much more accurate and safer upper or lower blepharoplasty procedure.
• Reduced Operative time- Less bleeding and better visibility significantly reduce operative time for cosmetic laser eyelid surgery. Time can be reduced from 2 hours with the scalpel to less than an hour for all four eyelids with the laser because less time is spent controlling bleeding with the laser technique. In addition a clear view of the anatomy allows quicker and more accurate completion of the procedure.
• Less bruising- Because there is less bleeding there is less bruising after laser eyelid surgery.
• Quicker recovery- less operative time produces less swelling. This combined with less bleeding and bruising allows for quicker recovery from cosmetic laser eyelid surgery.
• Less scarring- Research studies have shown that laser incisions heal with less inflammation than scalpel incisions. Less intense inflammation leads to less scarring with the laser technique.

Do not be misled or confused.
Cosmetic laser upper blepharoplasty and cosmetic laser lower blepharoplasty are surgical laser eyelid procedures in which an incisional CO2 laser is used to make the incision and remove tissue. Recently some non-plastic surgeons have advertised a laser blepharoplasty that uses a different type of laser applied to the outside of the skin which does not make an incision but attempts to shrink, not remove excess skin and does not remove eye bags. Results, in my experience are usually very disappointing. The use of the term cosmetic laser blepharoplasty for this procedure is misleading. Be sure to ask if the CO2 laser is being used to make the eyelid incision and not as a resurfacing laser.
How can you find a Plastic Surgeon who uses a laser to do cosmetic eyelid surgery?
You will have to search and specifically ask if the plastic surgeon performs laser eyelid surgery with an incisional CO2 laser and not the traditional scalpel. The use of the laser in cosmetic blepharoplasty is a relatively new technique. In addition, the laser is very expensive and not all practices have purchased this new technology.
First, search for plastic surgeons in your area who are certified by the American Board of Plastic Surgery. Also search for plastic surgeons who are experienced in cosmetic plastic surgery through the American Society of Aesthetic Plastic Surgery. You can also check The Smart Beauty Guide which can also be a good resource.
Once you have found properly credentialed surgeons in your area call the offices and ask if the surgeon uses the CO2 incisional laser for cosmetic eyelid surgery.