Dermal Fillers in Boston
What are Dermal Fillers?
A dermal filler, also known as a facial filler or wrinkle filler, is an FDA approved injectable temporary facial implant used to plump or add volume to the aging face and remove wrinkles and deep facial lines.
Why do people have dermal filler injection?
People have dermal filler injections to look younger and for:
Lip augmentation or enhancement
Restore apple cheeks
Wrinkle filler
Deep facial lines
Non-surgical facelift or liquid facelift
Chin filler
Cheek filler
Under eye filler
Nonsurgical nose job
What does a dermal filler injection do? What are the benefits?
Dermal fillers are injected into and underneath the skin to fill or plump wrinkles, sunken cheeks and deep lines to make the face look younger.

What is a liquid facelift?
The liquid facelift as a non-surgical facial skin rejuvenation technique that uses a combination of Botox® or Dysport® and dermal fillers to remove wrinkles, plump and rejuvenate the face.

What is the dermal filler injection treatment like?
Your face is cleansed with antiseptic and numbing cream is applied. Cold is applied to further numb the skin and injected filler also contains numbing medicine. The injected area is then gently massaged, and a cold compress is applied.
How long does a dermal filler injection treatment take?
The injection takes only a few minutes. The prep time is approximately 15-20 minutes.
Does dermal filler injection hurt?
Dermal filler injection can cause discomfort. The combination of numbing cream and cold make it much more comfortable.
What will my face look like after dermal filler injection? Can I go back to work?
You see the result right away. The area may be pink or slightly swollen but most people can return to work. I rare cases, there can be bruising.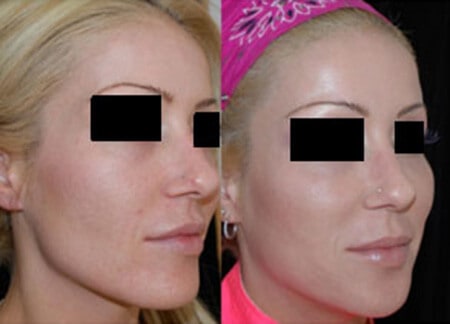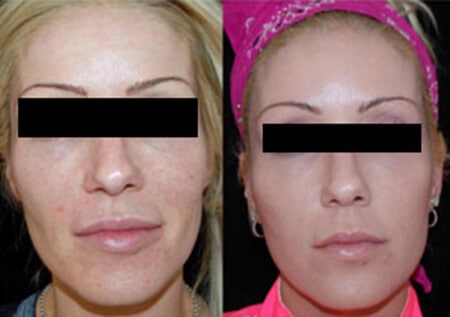 Will people know that I have had a dermal filler injection?
No, people should not be able to tell.
What do dermal filler injections cost?
On average one syringe can cost $500-$750. If you choose to have multiple syringes cost can be higher.
Are dermal filler injections safe?
Dermal fillers are safe when FDA approved fillers are injected by an experienced, trained physician.
What are the possible side effects of dermal filler injections?
Possible side effects are swelling, pinkness, tenderness, temporary numbness, bruising, discomfort or allergic reaction.
Who should not have a dermal filler injection?
Patients with compromised immune systems should not have a dermal filler injection. You should not have filler injections if you are allergic to any ingredient in the filler, have a skin infection or inflammation, or a history of hypertrophic or keloids scars.
Who should do my dermal filler injection?
Board certified plastic surgeons.
What is the best dermal filler, face filler or wrinkle filler?
The best dermal filler is the one that best fits your anti-aging skin care goal. A combination of different fillers is frequently used. Common fillers are:

Restylane® – The first hyaluronic acid filler and is the most widely used
Perlane® – A thicker hyaluronic acid filler, a longer lasting form of Restylane® that can last 9-12 months
Prevelle® Silk – A thin Hyaluronic Acid filler called a starter dermal filler.
Belotero® – Another thin HA filler that is used in fine lines.
Juvéderm® – A longer-lasting hyaluronic acid filler up to 9-12 months. Juvéderm® XC is mixed with an anesthetic. Juvéderm® Ultra lasts longer. Juvéderm® Ultra XC and Juvéderm® Ultra Plus XC have numbing medicine.
Radiesse® – A firmer, stronger long-lasting facial filler made of calcium hydroxyapatite. Radiesse® is not used in the lip.
Sculptra® – Often mispronounced as Sculptura is Poly-L–lactic acid. Sculptra® acts both as a filler and bio stimulant to regenerate new collagen. Sculptra® requires a series of 3-4 injections 3 weeks apart.
Collagen injection – The first dermal filler but have been replaced by the HA fillers.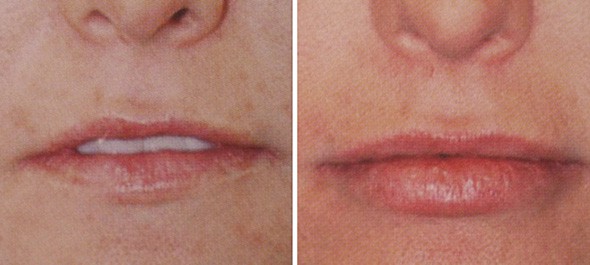 Comparison of best dermal fillers
Key
HA: Hyaluronic Acid
| | | | | | |
| --- | --- | --- | --- | --- | --- |
| Dermal Filler | Type Filler | Cross Linked | How Long Lasts | Contains numbing medicine Lidocaine® | Used for |
| Prevelle® Silk | HA | No | 3-4 months | Can be added | Starter Filler Fine lines, wrinkles |
| Restylane® | HA | No | 6 months | Yes | Lips, eyes, ear lobule, NL fold |
| Perlane® | HA | Yes | 9-12 months | Yes | Cheeks, NL fold temple, around mouth, jaw line |
| Beletero® | HA | No | 4-6 month | No | Lips, tear trough, fine lines |
| Juvéderm®Ultra | HA | Yes | 9-12 months | No | Lips, eyes, ear lobule, NL fold |
| Juvéderm® Ultra Plus | HA | Yes | 9-12 months | No | Cheeks, NL fold, temple, around mouth, jaw line |
| Juvéderm®XC | HA | Yes | 9-12 months | Yes | Same as Juvéderm® with numbing medicine |
| Radiesse® | Calcium Hydroxy Apetite | Yes | 9-12 months | Can be mixed in | NL fold, cheeks, temple, nose |
| Sculptra® | Poly-L-Lactic Acid | No | 9-12 months some permanent new collagen | No | Full face volumization, temples, NL fold, cheeks, jaw line |